Friday, September 30, 2022
University of Iowa M.F.A. printmaking graduate student and teaching assistant Mariceliz Pagán Gómez has partnered with the UI Museum of Natural History for artistic research and audience engagement. Her forthcoming M.F.A. thesis show in the UI Visual Arts Building (Spring 2023) will showcase pieces inspired by her time in nature and at the museum.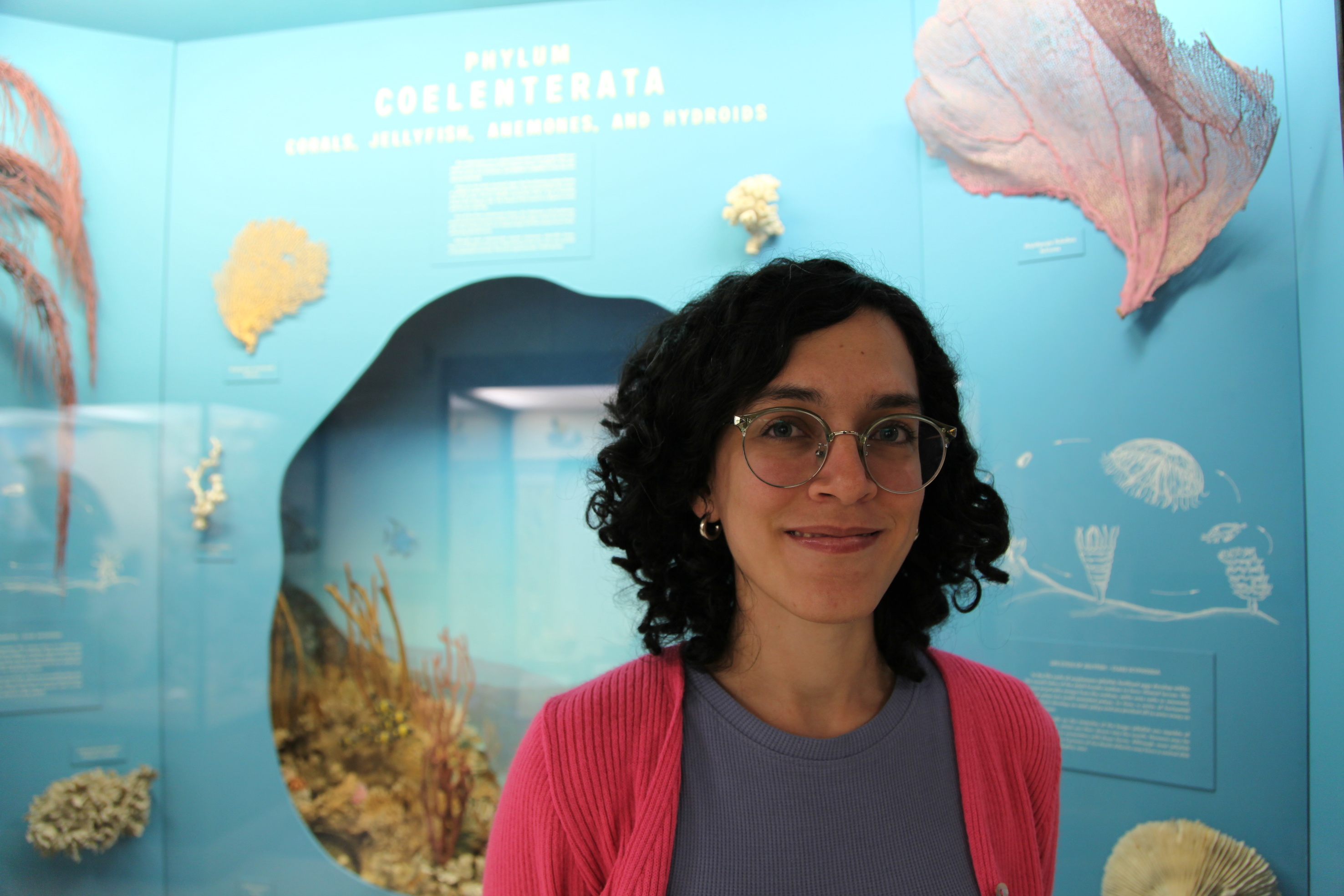 "Collaborating with a museum like this has been very eye opening, as it has made me imagine a wider range of possible career paths." -Mariceliz Pagán Gómez 
An artist and educator from Puerto Rico, Mariceliz has a B.A. in art from La Universidad de Rico, Recinto de Río Piedras, and explored book arts, painting, and drawing in La Liga de Arte and Escuela de Bellas Artes de Carolina. In her current venture, Mariceliz is teaching while pursuing an M.F.A. in printmaking at the University of Iowa.  
"My work deals with the relationship between artistic and biological processes. I convey this relationship using a scientific method of inquiry to investigate my own art as a living organism and dissect it in various ways through printmaking, drawing, and sculpture. 

"Recently, through ideas of collecting and intermittent field studies of my current environments, I reflect upon the experience of displacement and coping mechanisms created when moving to a different place. These mechanisms exist through the process of discovery, exploration, and associations that amalgamate both my experiences in two distinct places (Iowa and Puerto Rico). These studies are rooted from connecting my interests with mutation and transformation with the drastic changes in the environment in Iowa that unveil foreign natural specimens and structures. While moving between these places, I've collected different objects like seeds, seedpods, seashells, dried tendrils, leaves, and used these as reference in my art." -Mariceliz Pagán Gómez 
The specimen-like nature of Mariceliz's work caught the attention of the UI GLAM partners (Galleries, Libraries, Archives, and Museums), which led to a connection with the Pentacrest Museums director of education & engagement, Carolina Kaufman. 
"I was thrilled to learn we connected on a cultural and professional level, as we both grew up in Puerto Rico, where [Mariceliz] also served as an educator and worked in a museum," Carolina said. Carolina, who also sits on the UI Latinx Council, believes the combination of creative expression and community in museums can help to build a safe environment for a global community of learners to share openly and comfortably. "After viewing her incredible body of work and learning more about her M.F.A. goals for engagement, I was inspired to invite Mariceliz to our Art & Write Night program." 
Mariceliz's work was featured on display at the Museum of Natural History during the latest Art & Write Night, where she was able to meet visitors to discuss her inspiration. She will return to the next Art & Write Night in Iowa Hall, Friday, October 7, 6-8 p.m., to lead an interactive maker's session (as the teaser on the Pentacrest Museums Instagram features), inviting guests to create their own works of art using paper, objects found in nature, and various museum art supplies. 
Mariceliz has enjoyed participating in museum programming and says she appreciates the opportunity for new feedback and interpretations of her work. "I think Art and Write Night is a wonderful event that provides a sort of therapeutic and contemplative experience through the arts and sciences while also creating community," she added. 
In addition to her work with Carolina, Mariceliz has also been working with the Museum of Natural History's director of research collections, Cindy Opitz. Cindy has been providing Mariceliz with access to off-display collections and the museum laboratory for exploration and study. Access to the museum's historic collections to observe and interact with specimens, storage, and preservation materials has been a rich resource for Mariceliz's artistry. "I've been interested in using these materials for sculptural purposes," she said, "I've also been observing the invertebrate collection and collecting visual references, like textures, and taking note of the various modes of storage: old and new."  
Cindy enjoys supporting collections access for all and recalls many collaborations with artists throughout her 24 years at the museum. "The Museum has a long history of working with artists, whose goals and experiences vary wildly: from artists who use collection materials to improve techniques, such as figuring out how to render the texture of fur; to artists checking real-life colors, proportions, and feather placement for accurate depictions; to artists like Mariceliz, who are seeking inspiration. These artist collaborations extend beyond the visual arts, and include poets, writers, dancers, and musicians." 
UI assistant professor of printmaking and chair of Mariceliz's M.F.A. committee Terry Conrad says he's inspired by Mariceliz's work with museum staff. Terry values the collaboration between scientific communities within arts programs. "Both artists and researchers need each other to share findings and expressions with a wide audience. There are new worlds that different disciplines can open each other up to," he says. 
The Pentacrest Museums are places where art meets science, history and culture interact, inspiration is born, and community building happens. To learn more and engage with Mariceliz's work, campus and community guests may join the next Art & Write Night program and look for more information on her M.F.A. thesis show next year. See her body of work here: https://maricelizpagangomezstudio.com/