By Abby Fowler, Pentacrest Museums Communications Assistant
The Art & Write Night program series returned to the Museum of Natural History's line-up of program offerings. The success of the series has inspired the museum's education and engagement team to extend scheduled events into the summer with hopes of more dates in the fall.  
Welcoming artists and writers – professional and amateur alike – to muse in galleries after-hours on creative projects has been a success in the museum's effort to support UI students, staff, and community members of all ages. 
Aubrey Dallner is a University of Iowa sophomore majoring in marketing with a management focus. She attended two Art & Write Night events, in March and April, and will return.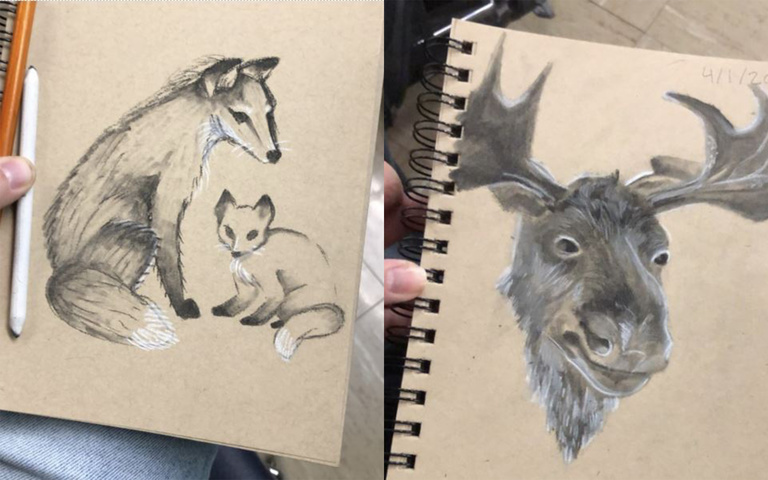 "My partner and I love Mammal Hall. There's so much to look at that it takes a couple of sessions to see and draw everything," said Dallner. "I spent time drawing the foxes at the last event. The Hageboek Hall of Birds is full of many species, too. My favorites are the little flammulated owls." 
Emmett Sorg, student at Kirkwood Community College, agrees that a lot of time can easily be spent drawing the animals in Mammal Hall. 
"I especially loved the moose and sat down to draw him for the entire two hours last month," said Sorg. 
Another participant has a lifelong connection to using the museum artistically. Zoë Woodworth, graphic design director at Hancher Auditorium, has been visiting MNH since she was a child. 
"My father, George Woodworth, was a professor of Statistics at UI and when I was growing up, his office was in MacLean Hall—just across the Pentacrest from Macbride Hall. I remember many family trips to Mammal Hall and Bird Hall, and walking through the historic auditorium that connects them," said Woodworth.  
Woodworth moved back to Iowa City in 2013 after spending many years living in New York City. While many things changed during her time away, she found the museum to be exactly as she left it. 
"Having the opportunity to participate in Art and Write Night means a lot to me," said Woodworth. "It is so refreshing to have a space that just invites us to stop and look and asks nothing more." 
At April's Art & Write Night, Woodworth gravitated towards the ring-necked pheasant.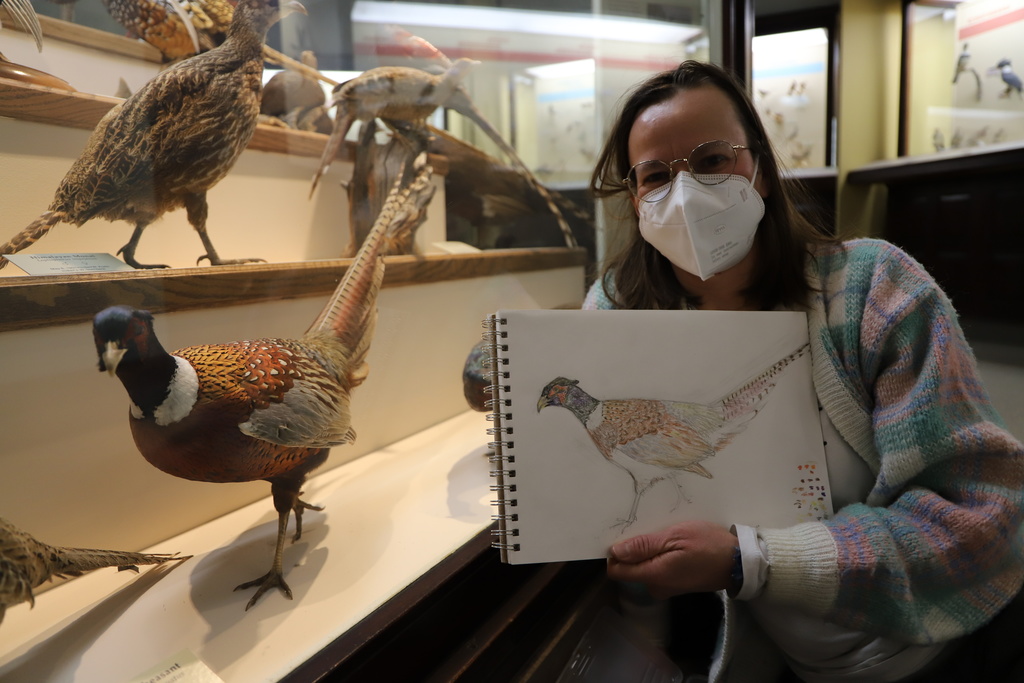 "Sketching the pheasant reconnected me to the experience of sketching a pheasant here when I was 7. To draw the same thing at two very different ages was really special, like re-reading a book and experiencing it from an entirely new perspective," said Woodworth. 
Like many programs at the Pentacrest Museums, Art & Write Night supports not just the leisure interests but the required curriculum goals and objectives of undergraduates. For example, the event in March welcomed several Journalism and Mass Communications students who were working on a story for class with photo requirements. These students used the event to interview and capture guests in action, later submitting work covering the evening to their instructors.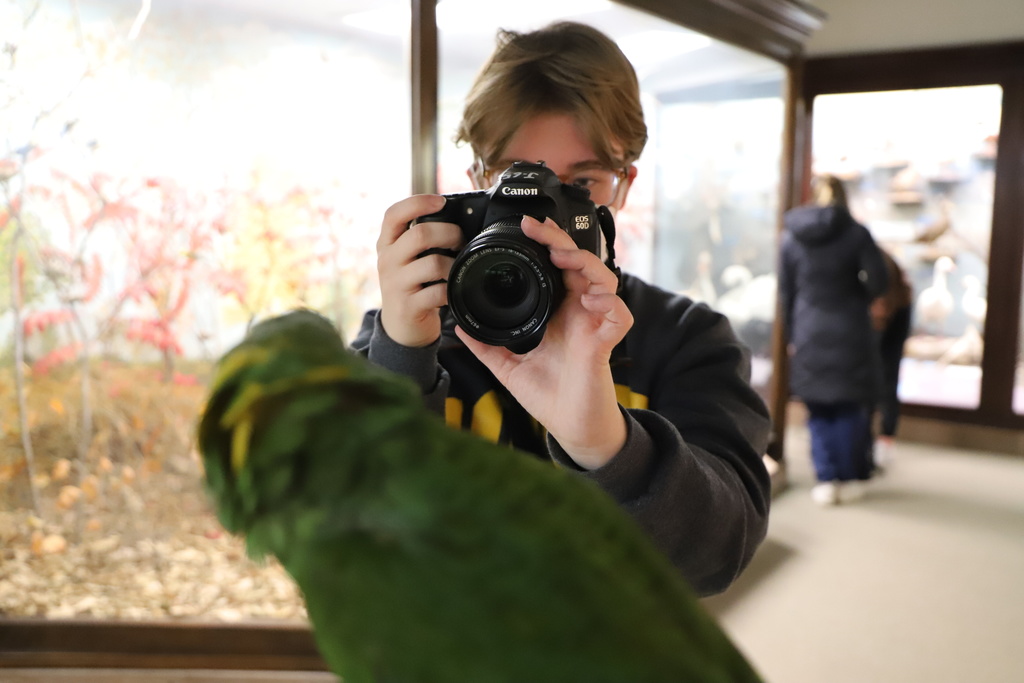 Art & Write Night is run by the UIPM education team along with the Pentacrest Museum's Student Advisory Board. The board was founded in 2020 to extend our campus and community reach through student engagement.  Students organizing and hosting these events gain professional experience in educational engagement, events management, visitor services, communication, and more. Plus, they too get to draw.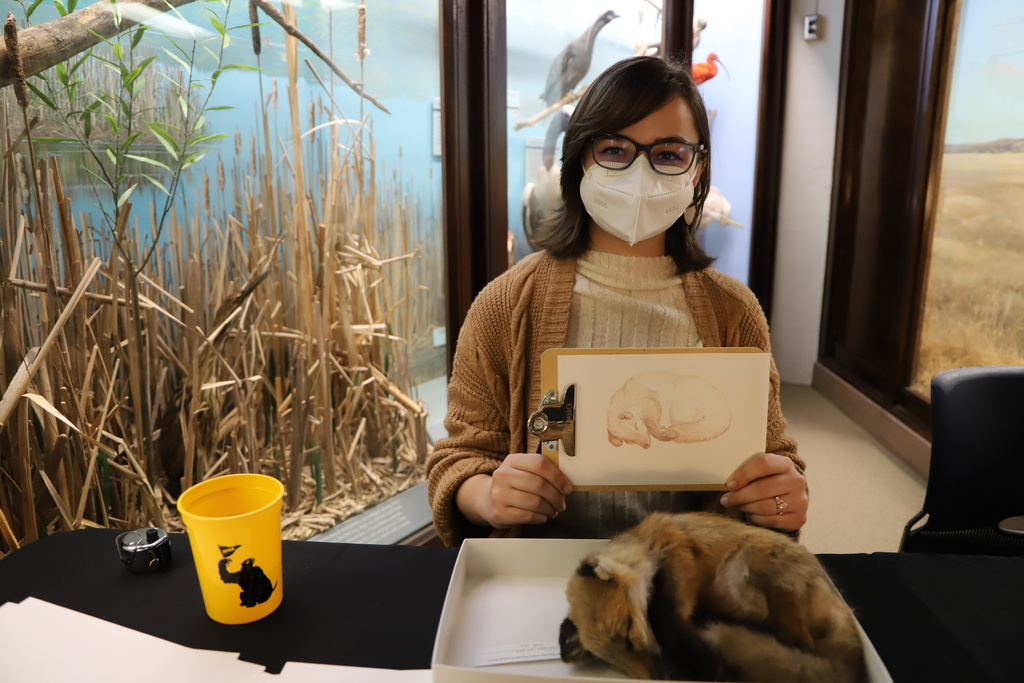 Art & Write Night is on the first Friday of each month from 6:00 p.m. – 8:00 p.m.  Continuing, extended dates for the program include May 6th, June 3rd, July 1st, and August 5th, 2022. Come visit to create your own museum exhibit-inspired art.