Tuesday, September 28, 2021
University of Iowa students got their steps in at the University of Iowa Pentacrest Museums Student Open House event on September 23rd, 2021 at the Museum of Natural History.
Organized by the Education and Engagement team with the Museum's new Student Advisory Board at the helm, undergraduates flocked into Bird, Mammal, and Iowa Halls on a scavenger hunt and selfie photo challenge. Each visitor received  a Museum Passport which they used to find hidden stations and photo ops throughout the Museum, collecting stamps and eventually prizes.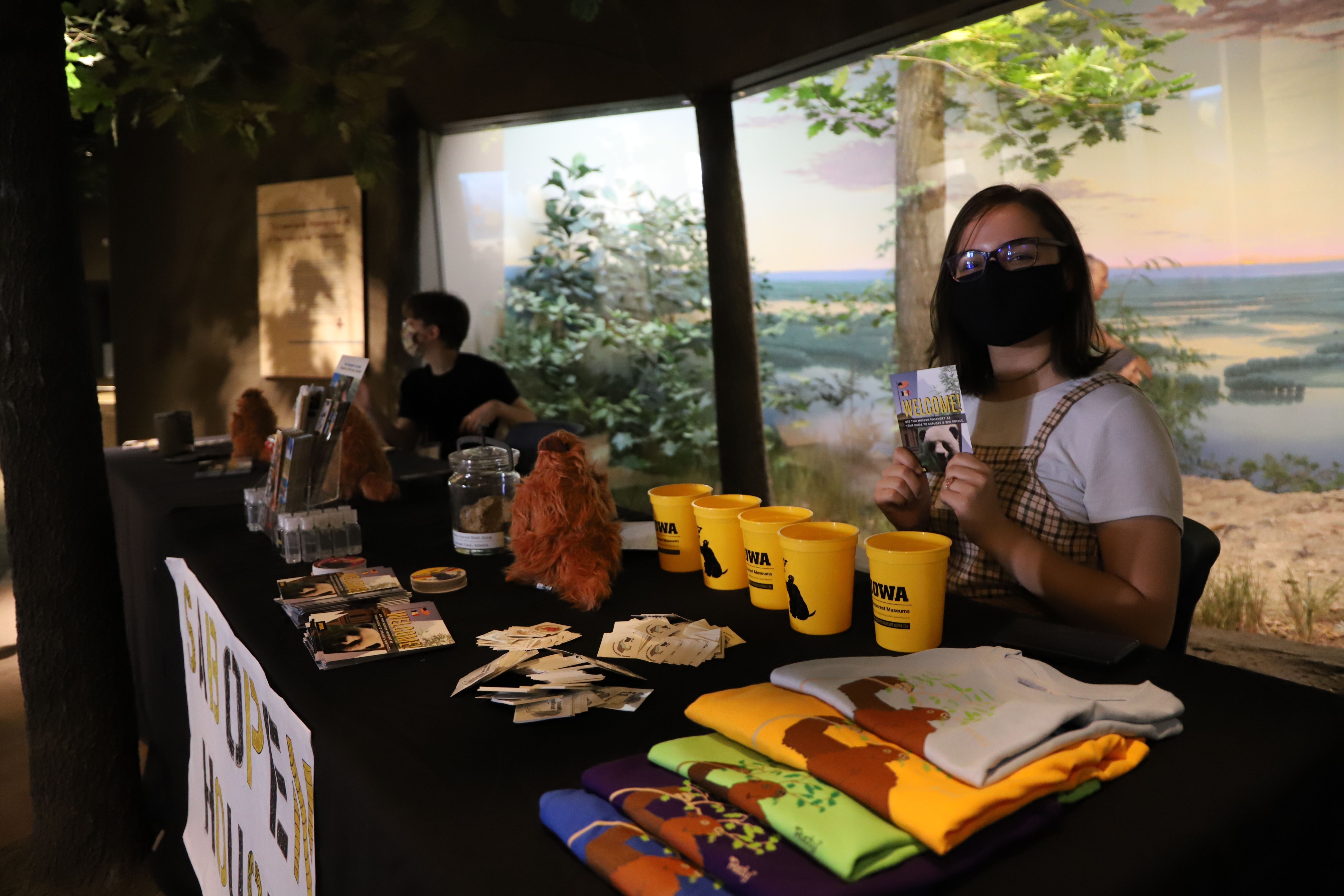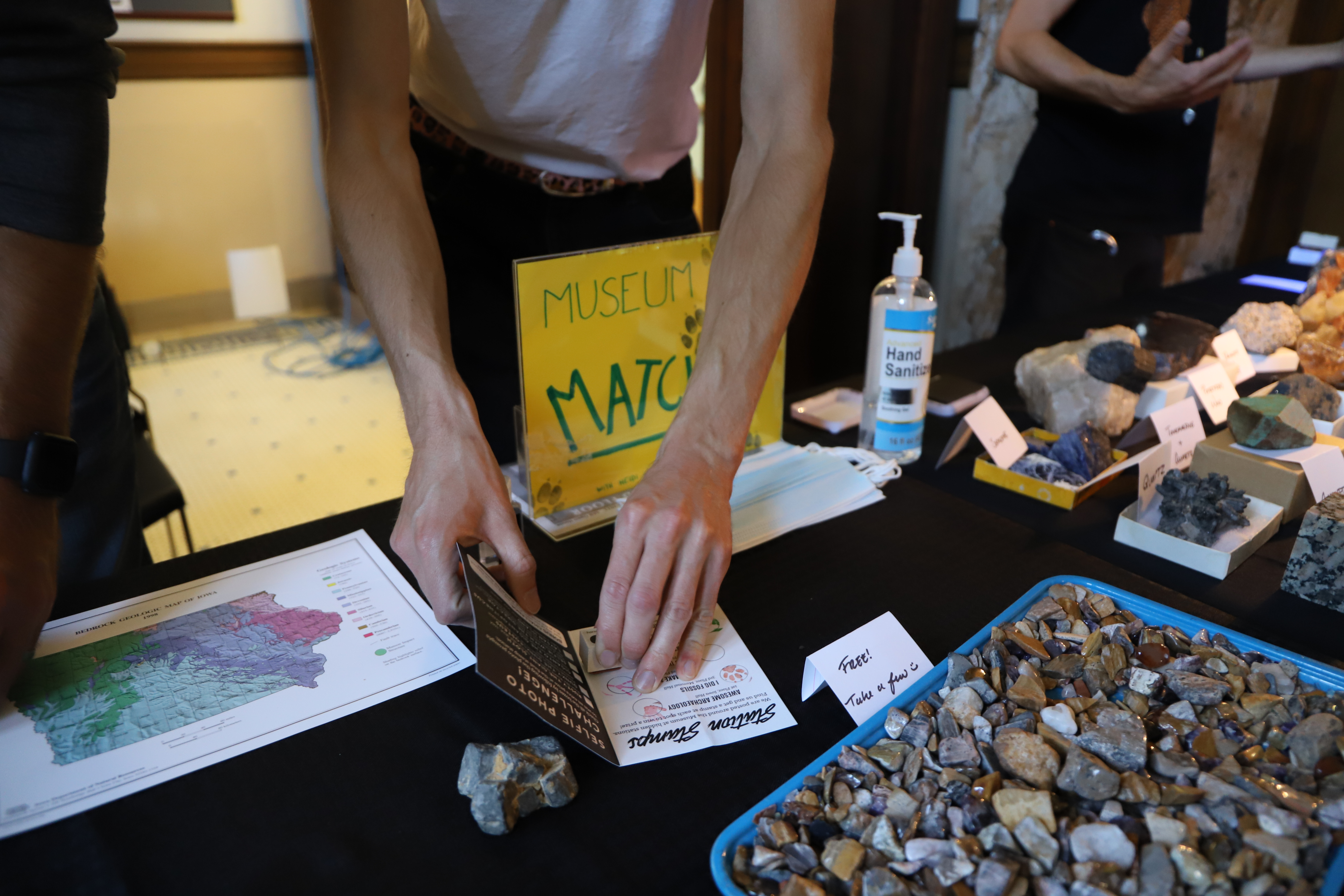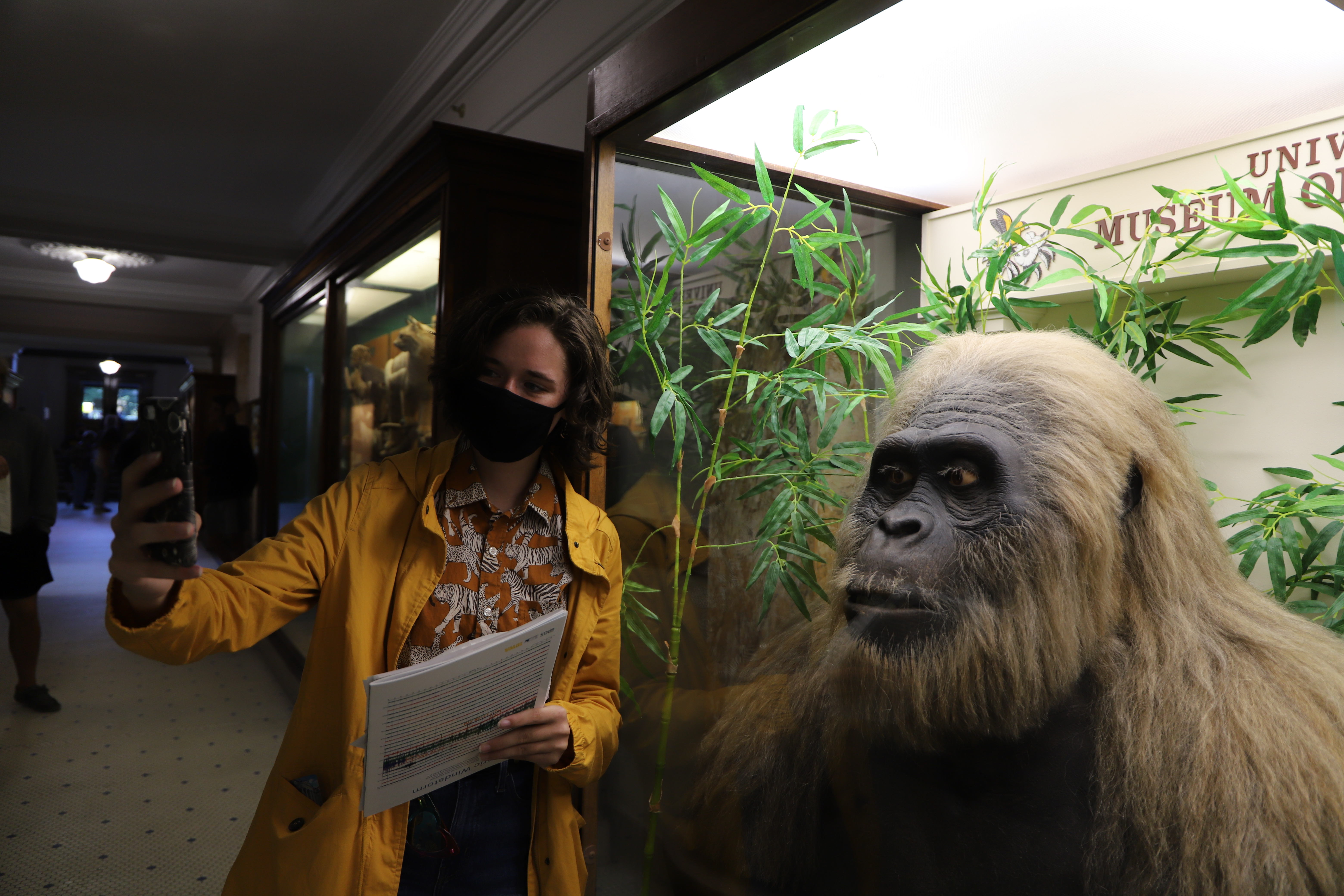 Along their journey they visited Archaeologist Cherie Haury-Artz and others from the Office of the State Archaeologist at their station "Awesome Archaeology." Cherie led the team, sharing what makes Iowa a particularly interesting spot for Archaeologists and offered more context to the Iowa Hall exhibits dedicated to their work. Cherie was joined by OSA's Collections Manager Carrie Parris and Archives Assistant & Field Technician Robert Lepcin.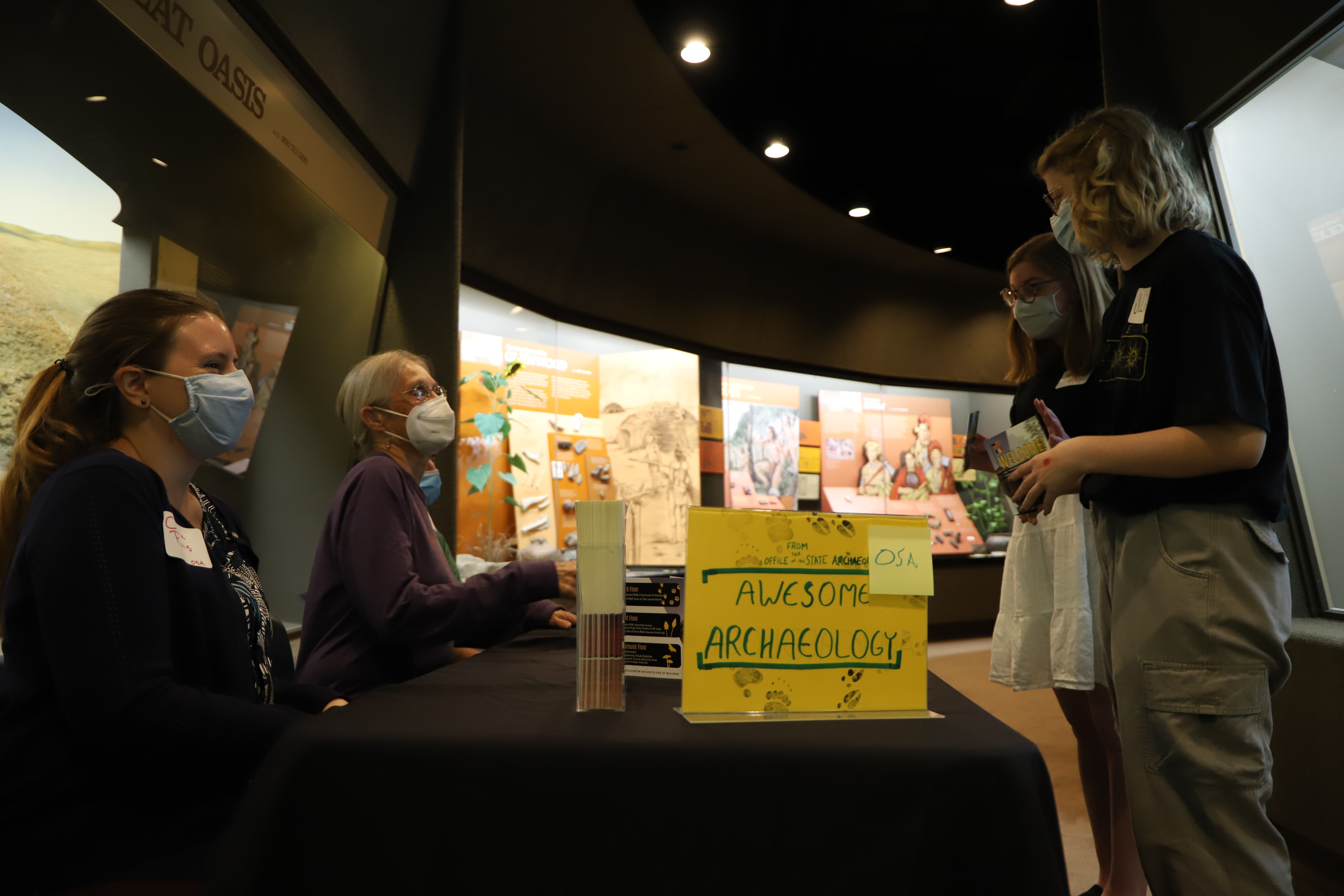 The next stop was up to Mammal Hall where students met Tiffany Adrain from the Paleontology Depository at her station, "I Dig Fossils!" Tiffany had a dig set up for students to search for fossils.  She would then identify their findings with them. Shells, coral, and even sharks' teeth could be found, just as they can be in areas of Iowa that were long ago underwater. Guests at this station left with their own new book from Paleontology and the fossils they found.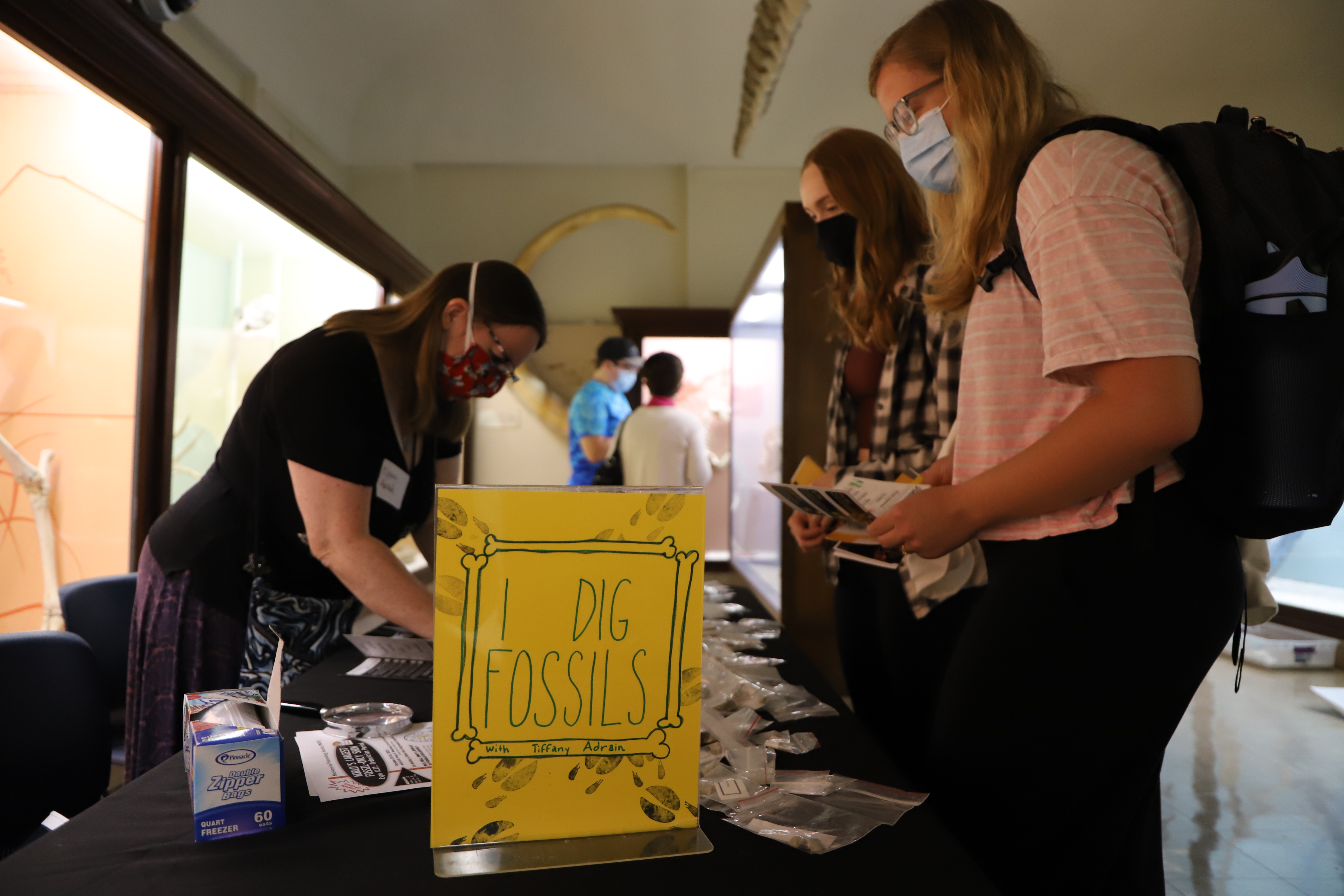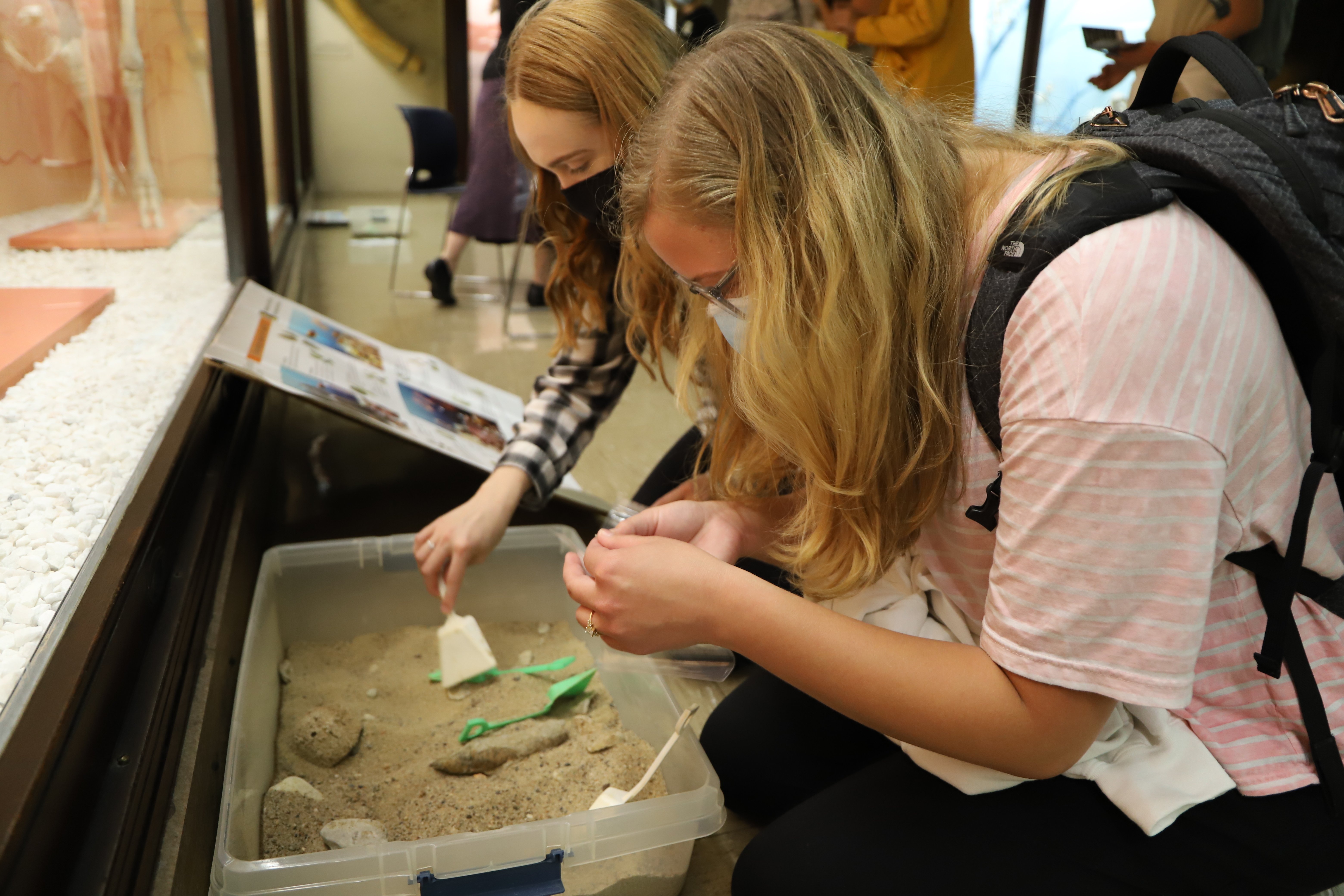 Across the gallery, guests met for a stop on their selfie photo challenge map: "Meet the Director!" Our fearless leader took many selfies with students and shared the amazing history of UI Alum Frank Russel and his 1894 scientific expeditions to the Arctic. During the 2-year solo expedition he collected specimens still on display at the Museum. "Museums are magical places with something for everyone," Crooks said, "This event embodied who we are and I was excited to welcome students—some for the first time—to our spaces."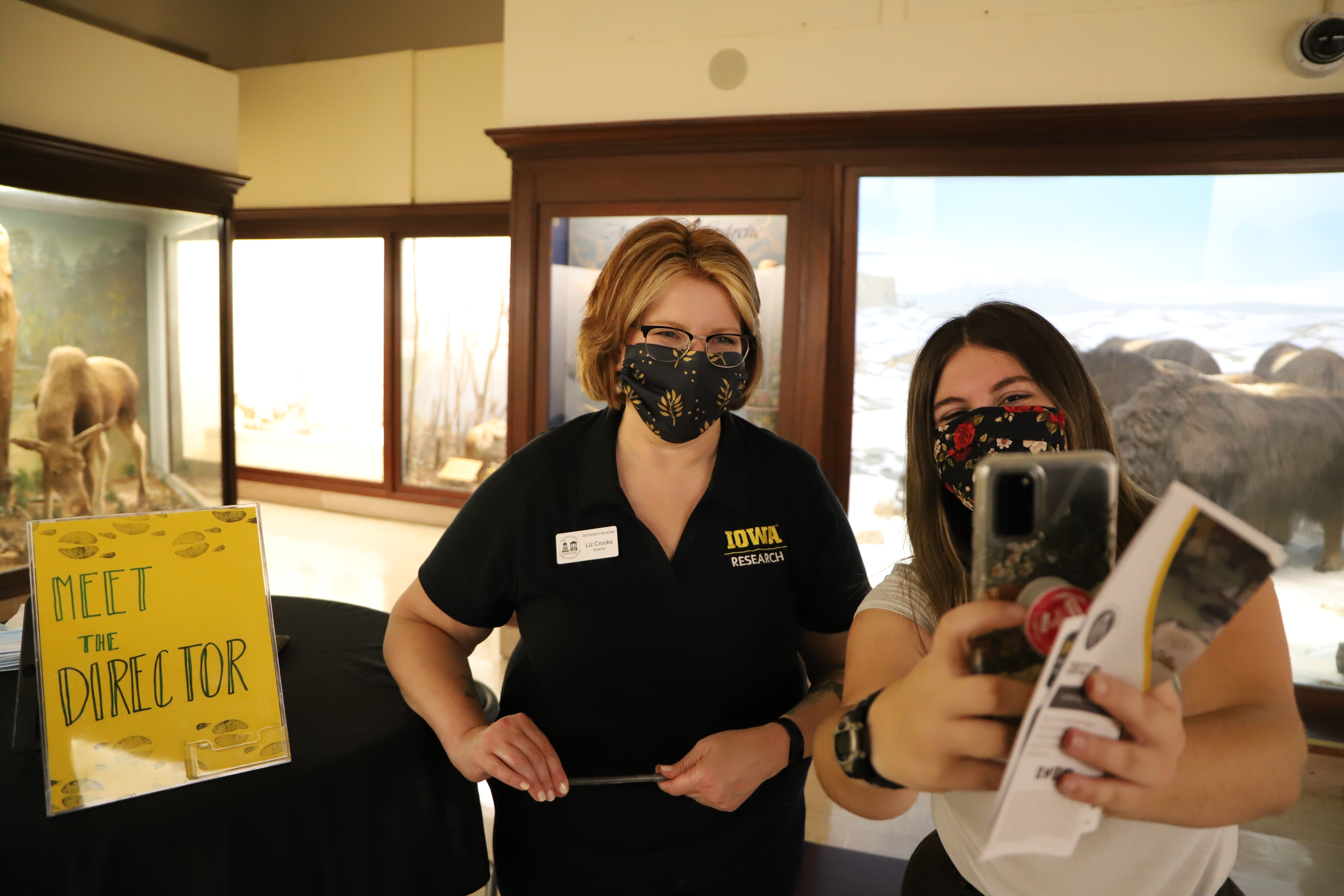 A walk across the auditorium led museum explorers to the Hageboek Hall of Birds (Bird Hall) where they met up with the Director of Education & Engagement Carolina Kaufman at the "Make and Take" station. To collect a stamp here, students participated in one of several Avian Art options including a game where Carolina directed students to hold a paper plate on top of their head then use the other hand to draw a bird. This made for big laughs (and great pictures!) Next, students completed art or writing prompts inspired by the bird exhibits. Some made Museum Memes like this one by @tylerharris2018 on Instagram: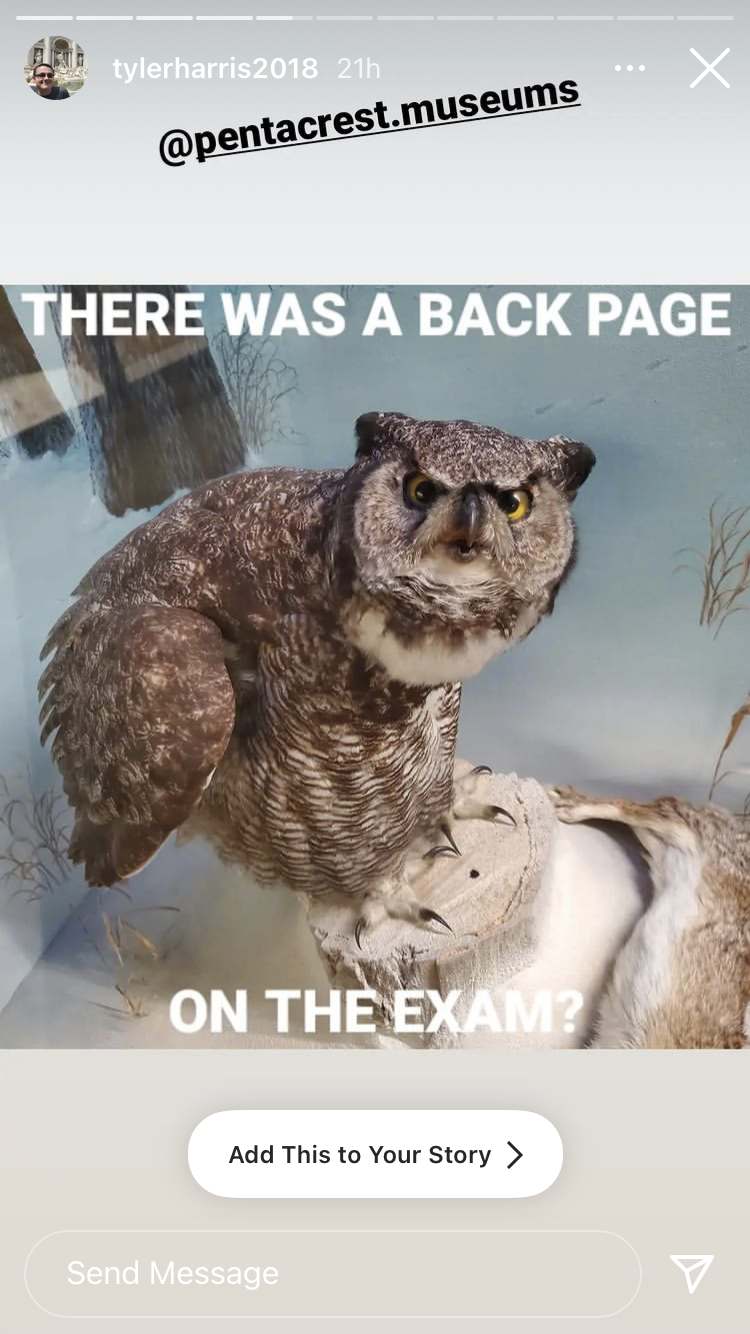 "The goal of this event was to welcome students into Museum spaces, introducing them to collections that belong to them, and the amazing opportunities and academic fields of our campus partners," Kaufman told us, "The goal of my engagement station Make and Take was to allow for discovery and curiosity about the natural world in a creative, social, and accessible setting. I couldn't be happier to say we achieved both of these goals at the Student Open House."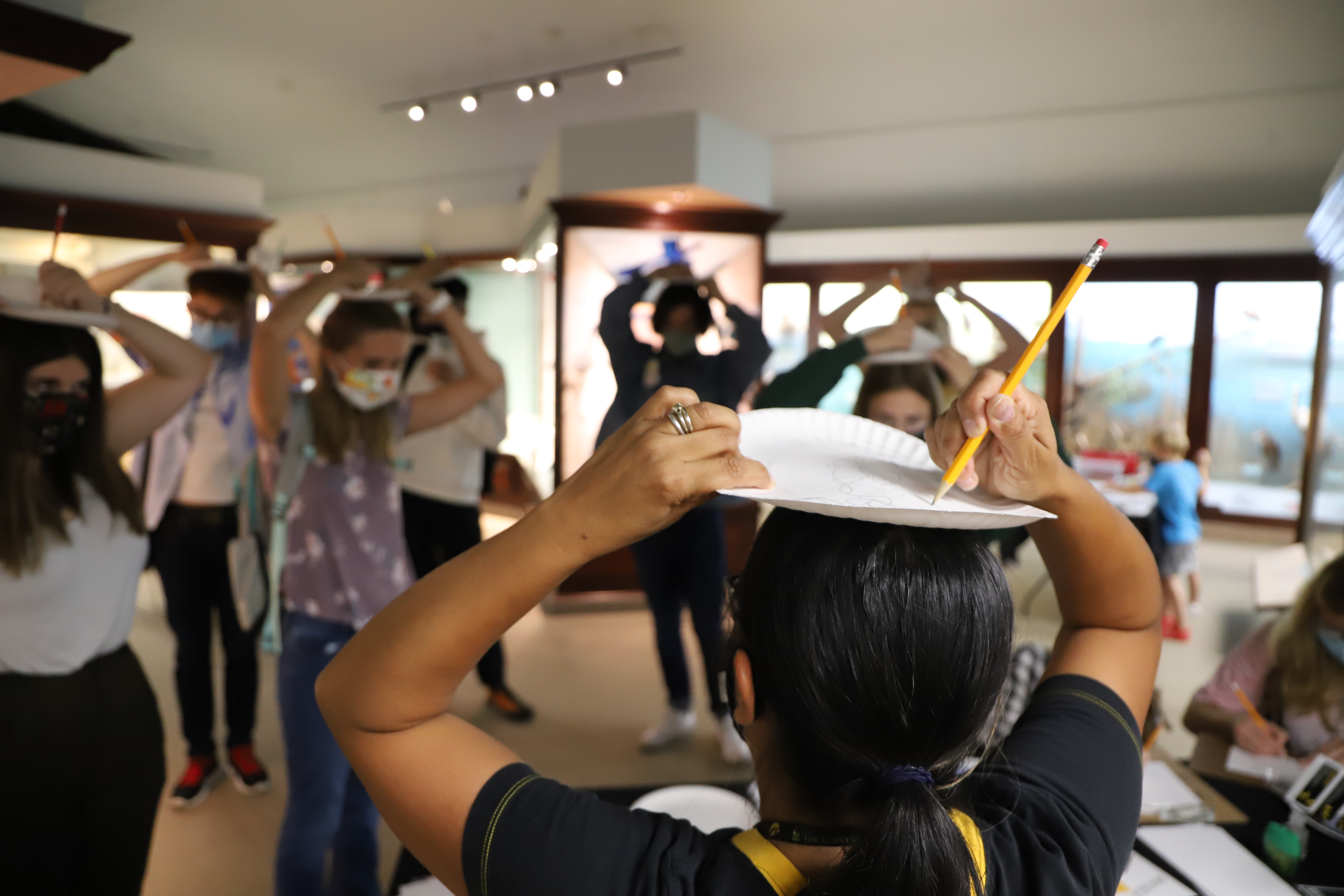 Now finished on the 3rd floor, students traveled to the ground floor where they met Matt Wortel from Earth and Environmental Sciences and UI Geology team for a stamp from the "Rocks and Magic Minerals" station. Geology had a fascinating set up with black light responsive stones, an Iowa-repping spread, and even a box of special rocks to take home. This was a very hands-on station with great energy from the team. Along with Matt, the station was staffed by Ryan Clark with the Iowa Geological Society, Brynn Hogue (student), Ben Eastman (student).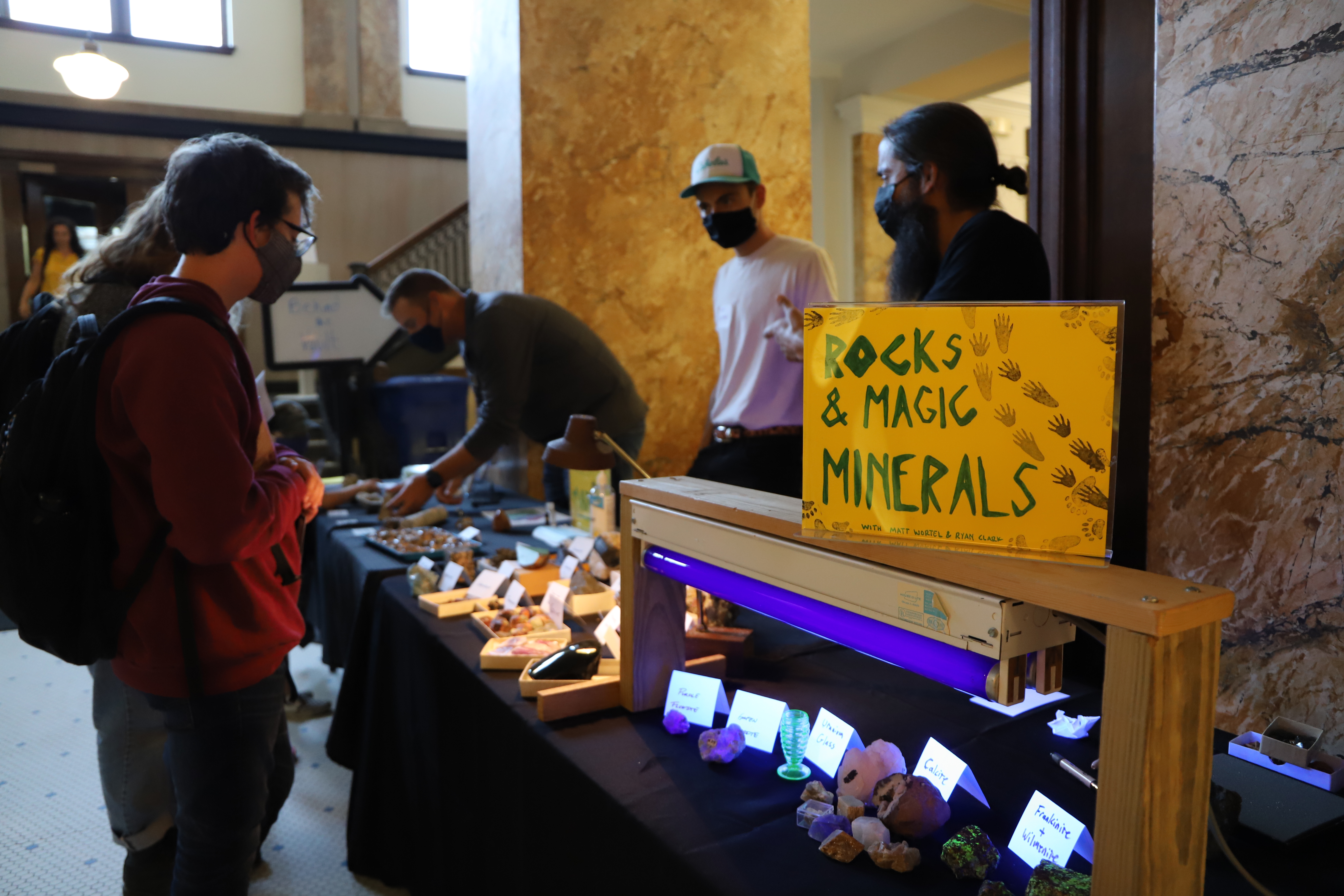 Just around the corner from the rocks, students visited the next station on their passports: "Behind the Vault." At this stop, guests were invited inside the Museum Laboratory where student scientists have been learning about the field of specimen preservation, research, and more for over 115 years! Our Research Collections Assistant Elizabeth Fouts pulled some of the most interesting items from collections and set them out for folks to explore. Fouts was joined by Ivy who shared collections in the lab with visitors. This stop was a real treat and earned students yet another stamp.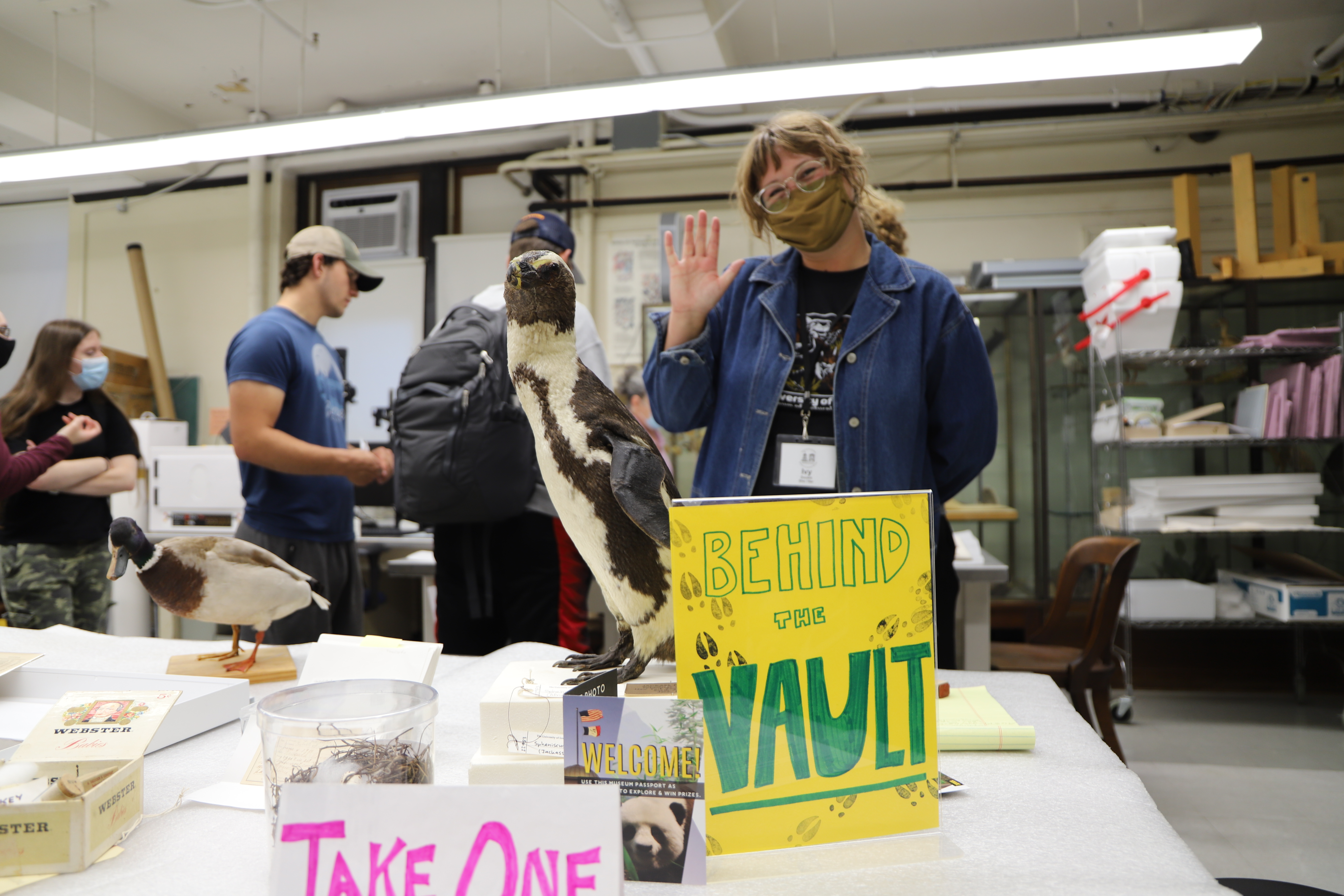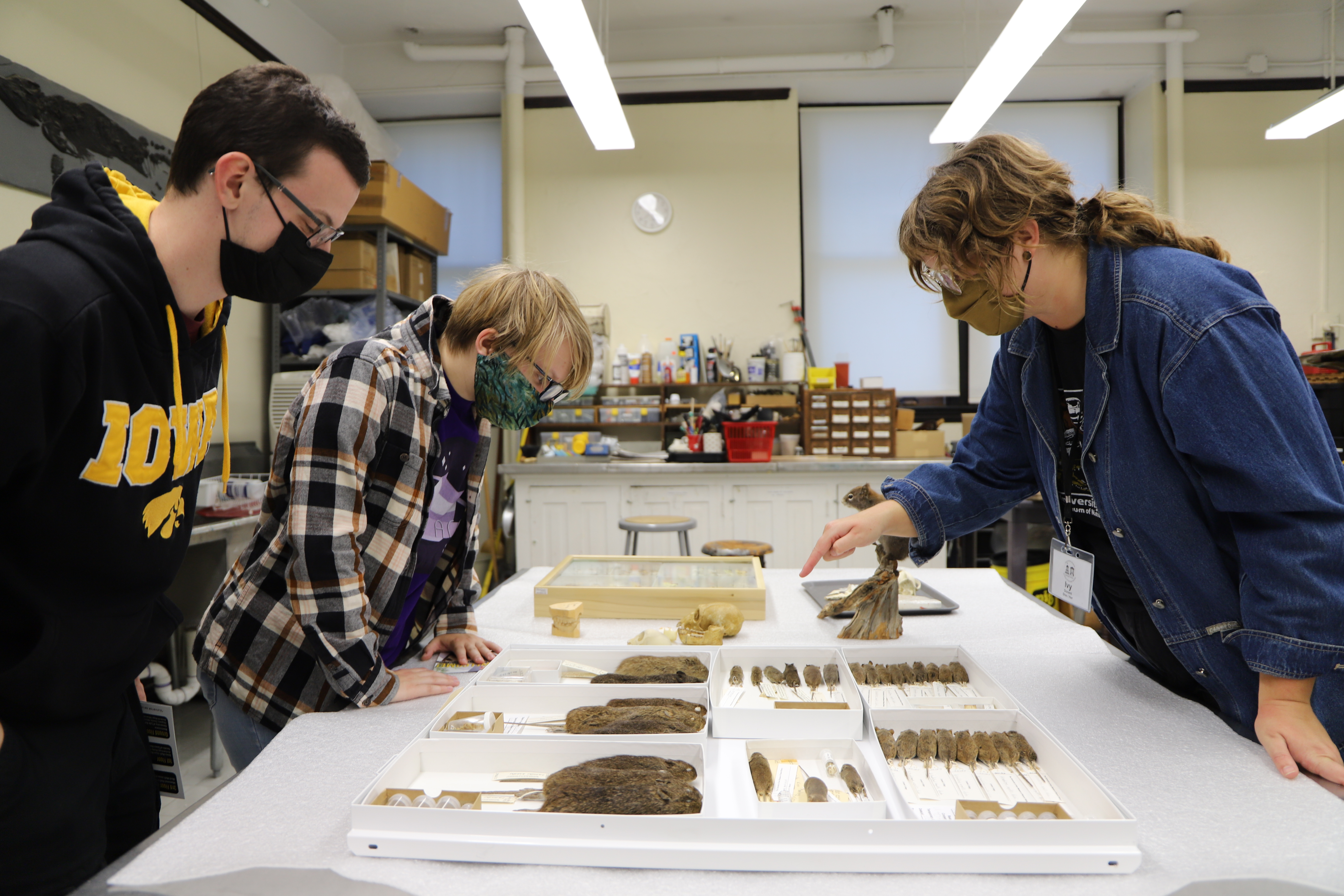 Next it was back up to the first floor where Dr. Heidi Lung and team worked the "Museum Match-Up" station where students played a game, took home goodies, and learned more about the University's Museum Studies Program. The station was strategically placed next to the Museum Studies Program in Macbride Hall and led students to Iowa Hall where they collected their prizes!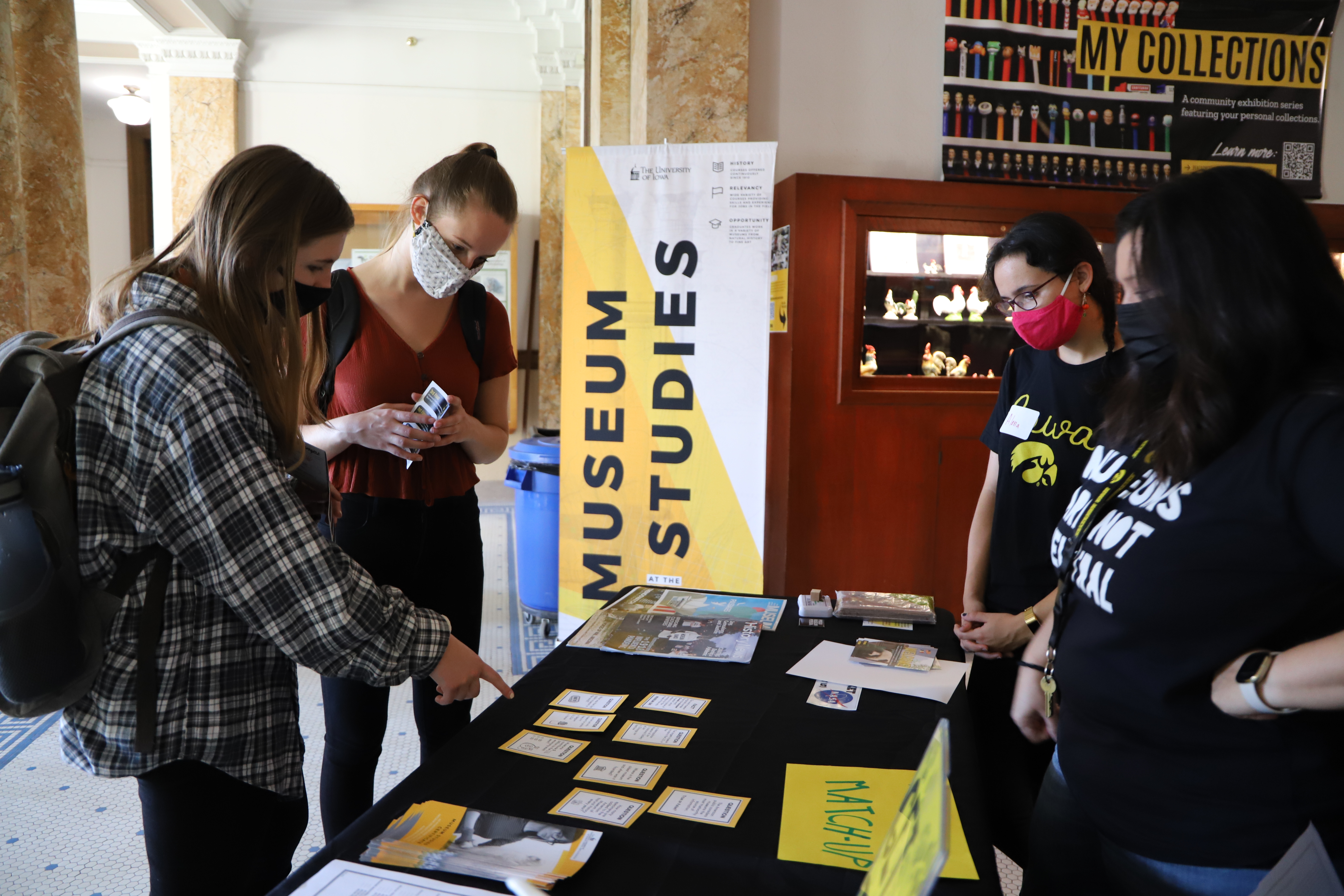 We checked in with our guest hosts after the event and got wonderful feedback. Both Tiffany Adrain and Dr. Lung mentioned their delight in seeing so many new faces in the museum galleries, especially some of their online students, who they met in-person for the first time. Matt Wortel shared, "Events like these always refresh my love of science and education!" Cherie Haury-Artz told us, "I was impressed with how well attended the event was. I enjoyed chatting with students and encouraging them to look more closely at the deep Native American cultural history here in Iowa. I think many were surprised to learn that people have been living here for more than 13,000 years." 
Special thanks to Education & Engagement Assistant, UI student Rylie Kelley for her work in leading the Student Advisory Board and the many contributors who worked to make this event happen. More than 20 students including student docents, volunteers, and Student Advisory Board members supported the event. Fueled by a generous offering of pizza from Iowa City's Mesa Pizza, they welcomed more than 100 undergraduate guests to the Museum over a 2-hour period. The professional experience and comradery felt during the event are things our museum staff is so proud to foster.  
---
To support the Education & Engagement missions of the UI Museum of Natural History, visit: https://bit.ly/3m5D4zw