The Pentacrest Museums host interns each year who help with projects big and small, learning on the job, preparing for their futures while contributing to the museums in every way imaginable. Their dedication is commendable. Today, on National Intern Day, the Museums recognize and thank each of them, past and present.
We caught up with current UI Museum of Natural History intern, Ivy Lenane Jewell, to learn more about her work with Director of Research Collections Cindy Opitz in the museum lab. Her artistry, passion, and enthusiasm for prepping specimens for research or display is truly a gift. The Museums are delighted she's crafting these skills with them here at the University of Iowa. Meet Ivy!
Name: Ivy Lenane Jewell 
Major: Intermedia BFA with Museum Studies Certificate 
Museum affiliation/title: Collections/Taxidermy Intern 
How did you start working with the Museum?  
I attended a private tour with a small group of art students and advisors this past spring. I reached out shortly after to see if I could volunteer behind the scenes at the museum. I joined in on bird prep on Thursdays and really enjoyed working hands-on preparing the specimens for the research collection. I geeked out about my interest in museum taxidermy with Cindy and she decided to take me on as an intern! 
What projects have you been working on?  
Besides specimen prep, I'm also working on mounting a Golden-Laced Wyandotte chicken. She was one of my hens in my backyard flock that died from a raccoon attack. It's an incredible opportunity to be able to pay my respects and honor her. I'm using historic and modern methods of taxidermy. The inner body form is made using an old method of wrapping wood wool with string. Wood wool is a more sustainable option compared to carving the body form out of balsa wood and is safer for the taxidermist than using foam. Using a classic method while sitting at the tables in the lab, where people did the same thing a hundred years ago, is really romantic and humbling. I'm building the base out of wood and spray insulation foam. I'll sculpt and carve it and then add dirt and foliage. Then I'll pose the chicken! Since this whole process uses natural materials, it will be safe to touch and can be used as an educational specimen. 
What projects will you be working on here in the future?  
I'll be working with Cindy on preparing and mounting the nine native bats for an upcoming exhibit that will be on display at the museum. We're in the process of obtaining the bats at the moment and are participating in an Atlas Obscura class by Prey Taxidermy/Allis Markham to learn how to pose a specimen so it looks like it's in flight. 
How have your projects and time with the Museum prepared you for your future?   
The University of Iowa Museum of Natural History has given me a great start at my career in the museum industry. I am able to learn anatomy, historic and modern processes of specimen preparation and taxidermy. Cindy has been a wonderful mentor. The environment has been one in which we can bounce ideas off of each other, experiment, and share knowledge with one another. Cindy/the University of Iowa Museum of Natural History are giving me the experience I need in order to apply for jobs in the future. Many museum positions require multiple years of experience in the field. I'm a non-traditional student; I had a career as a glassblowing assistant professor in Washington state for the past five years and once COVID hit, my husband and I lost our jobs and moved back to Iowa to be closer to family. I took it as an opportunity to change career paths and pursue something I've always had an interest and passion for: exhibit design and museum taxidermy. I grew up spending many summer days staring at the dioramas in mammal hall. There's a lot of nostalgia here for me. This is where the passion began for me and it's where I'm starting to take the steps to make my dream a reality. I'm a little late to the game, and am grateful to have been taken in by Cindy and the rest of the museum staff. Their support has provided me the opportunity to start a new career and try to create a living where I can challenge myself while still being able to create works of art. 
Any specific career endeavors this is prepping you for? 
I hope to become experienced enough to become a museum taxidermist. I love taxidermy in museum settings because they allow us to see animals that we may never have seen otherwise. Dioramas act as a vehicle for educating the public on the natural world around us. With issues in our current world relating to climate change, habitat loss, and extinction, we can use natural history museum dioramas in order to encourage acts of conservation and environmental activism. My dream job would be to make taxidermy in a museum setting with this in mind. To try to honor and replicate the natural world in hopes that we can conserve and encourage a love for it in others. Whether that be designing exhibits or making ethical, natural, and sustainable mounts that can be brought out and used during tours or events. Being able to see the beauty of these animals up close, to be able to feel their feathers and notice the differences in textures and discover the minute details of them is a humbling experience and is incredibly powerful. 
Coolest bird you've prepped or experience you've had prepping?  
Barred Owl. Growing up I volunteered at the Iowa Raptor Project as a winter waterer. I loved being up close with the owls. There's something magical about them. When prepping one I felt an intense feeling of respect for the animal. I wanted to make sure that everything done was with intent and respect for the creature. 
Weirdest thing that's happened while prepping?  
When we prep specimens we dissect the stomach and note what the contents are and include the information in the collection records. I was preparing a red-tailed hawk and found over twenty snakes in it! It was a mix of Gartner and DeKay's Brown snakes, located in the stomach, esophagus, and mouth. Most of them were fully intact and swallowed whole.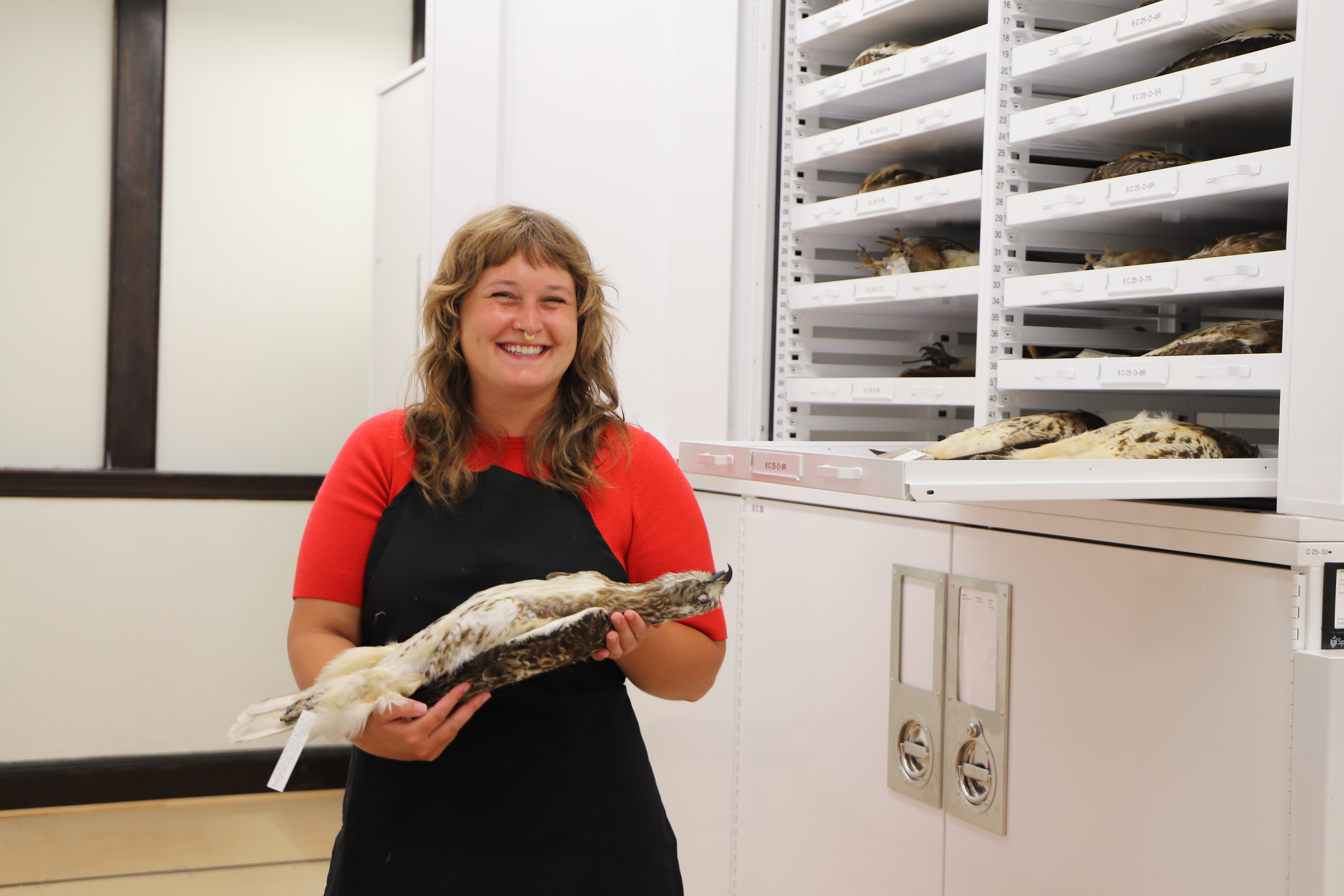 Any particular species you are hoping to work on/with?  
I've already had the opportunity to work on a lot of species that I love. I'm keeping a list as I go. Cardinals, cuckoos, hawks, owls, etc. I'd like to work on a hummingbird someday. They're notoriously difficult due to their size and how thin their skin is. It's a challenge I'd like to work my way up to. 
Unexpected perks or positive outcomes of your position?
The opportunity to see so many species up close still blows my mind. Every time I walk into the lab I get excited to see what's in store. 

I brought an injured sparrow to a wildlife rehabilitator and mentioned to them that we're accepting specimen donations. They've become one of our main donors now and we are so excited to be working with them. All of our specimens are donated. They come to us having already died, usually from car or window strikes or of natural causes. Some are from the Iowa Raptor Project and the DNR. 
How has your background prepared you for this role? 
My background is in art and being able to translate my experiences working in the art industry now into fabricating for museums has been so exciting. It feels like I'm bridging two passions into a career and I can't wait to see where it takes me. I'm grateful for all the support and opportunity the Pentacrest Museums has given me.