Wednesday, February 9, 2022
The Iowa Winter Birds exhibition will go back on display in the Hageboeck Hall of Birds, after a long hiatus while on long-term loan to the UI Center for Advancement (then the UI Foundation), and later in off-display collections. After 25 years away from the public eye, it's coming back to the public gallery with a spruce up. The revamped exhibition features a variety of bird species found in Iowa through the winter months in a cold and snowy woodland setting with a brand new, vibrant backdrop of an early winter morning along a creek in Iowa, painted by Drew Etienne.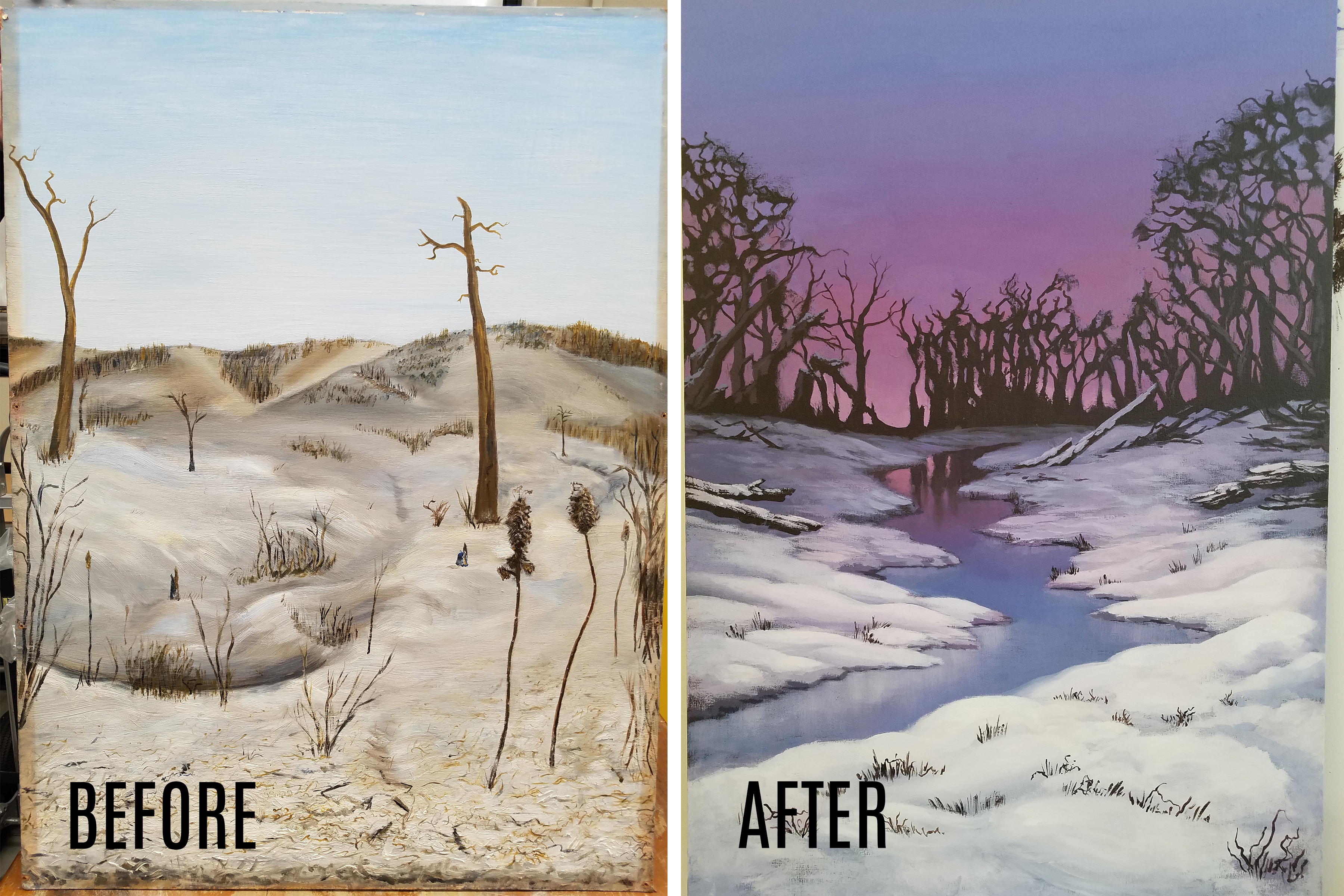 Etienne is a multi-disciplinary environmental artist and educator living in Iowa City. He received his BFA in painting and drawing from Indiana University, and his MFA from the University of Iowa in painting and drawing with a minor concentration in printmaking. He is currently a Fulbright semi-finalist for printmaking in Japan, and is teaching painting at UI as a visiting assistant professor. He also works as a muralist and has completed numerous projects in eastern Iowa over the past few years. His most recent public works in Iowa City include George's Buffet, Linn Street, and The Graduate Hotel walkway. His latest work, "Iowa Winter Birds," is his first museum gallery piece destined for permanent display. 
"I was very excited about the opportunity to work with the Pentacrest Museums on a refresh of this exhibit. I had taken my Life Drawing students to Bird and Mammal Halls last semester and ended up spending a lot of time outside of class looking very closely at the wonderful background murals for the dioramas. I was happy to be working on the winter birds exhibit especially, being a bird enthusiast myself, and also just having completed the Iowa Master Naturalist's fall semester course." 
"It was a pleasure to work with Drew," Pentacrest Museums Director Liz Crooks said, "His professionalism, knowledge of our existing dioramas, and his creative talent all came together to create a beautiful and timeless backdrop."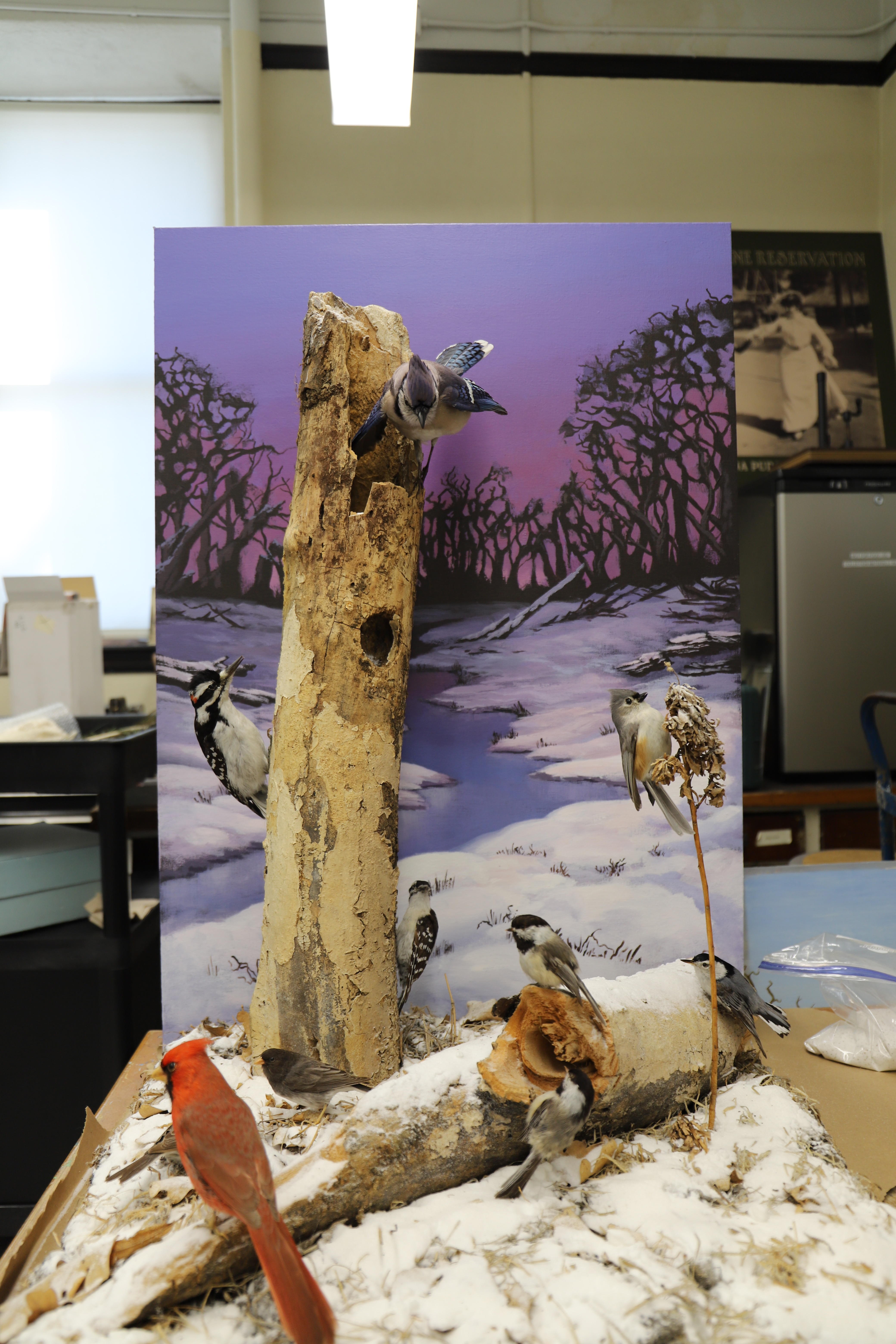 Drew worked collaboratively with Museum staff to find the right approach to the ideal setting for the birds. The final painting features an early dawn color scheme which complements the exhibit's birds as well as the nearby night-time owls on display in the gallery. UIPM Exhibits Preparator Byron Preston championed the update and recognized the importance of achieving a harmony with the existing installations, "I am thrilled to be part of the effort to renew our exhibit spaces throughout the Museums," he told us.
"I first created a small sketch with gouache so that we could all visualize the final product. The Museum staff's enthusiasm for that draft greenlit the project. For the finished painting, I used two types of acrylic paint on a canvas board," Drew shares of his process. He also shared a fascinating process photo story with audiences during an Instagram Takeover, which can be viewed on the Museum's Instagram Highlight Reel @pentacrest.museums. 
Drew's work carries on a legacy of Iowa students, alum, grads, and instructors contributing to the exhibits displayed in the University of Iowa Museum of Natural History's public galleries—a legacy of which Pentacrest Museums Director of Research Collections Cindy Opitz is proud. "Student and local artists' works have featured prominently in our existing murals and dioramas for over 100 years. It's great to keep that tradition going, with this new installation by Etienne." 
Iowa Winter Birds can be viewed in person during regular museum hours, starting Friday, February 11th on the 3rd Floor of Macbride Hall in the Hageboeck Hall of Birds. Guests can expect an updated "search & find" label, inviting them to identify each of the species on display, and are encouraged to find these birds in their own back yards.