Wednesday, January 5, 2022
The University of Iowa Museum of Natural History will present a free Film Screening and Discussion of MAMMAL HALL in the Macbride Auditorium upon their return from winter closure, Saturday, January 15, 2022 at 3:00 p.m. A museum moderated artist discussion and audience Q&A will follow.
The short film, MAMMAL HALL, is a polyphonic, sensory study of museums and the questions that arise as we wander through them. The project was created as a collaboration between three artists from different disciplines Auden Lincoln-Vogel (film), Stephanie Miracle (dance), and Ramin Roshandel (music), while in residence at the Museum of Natural History this past last year. The three artists center their creative conversations in the Mammal Hall gallery, musing about the strange liveness of the motionless animals, the timeless and time-bound qualities of the space, the shifts of attention as one moves through natural and artificial spaces, and the complex histories of natural history museums. The result is an absurd and contemplative portrait of the body in the museum and the multisensory ways through which we learn about the world. Appropriate for all ages.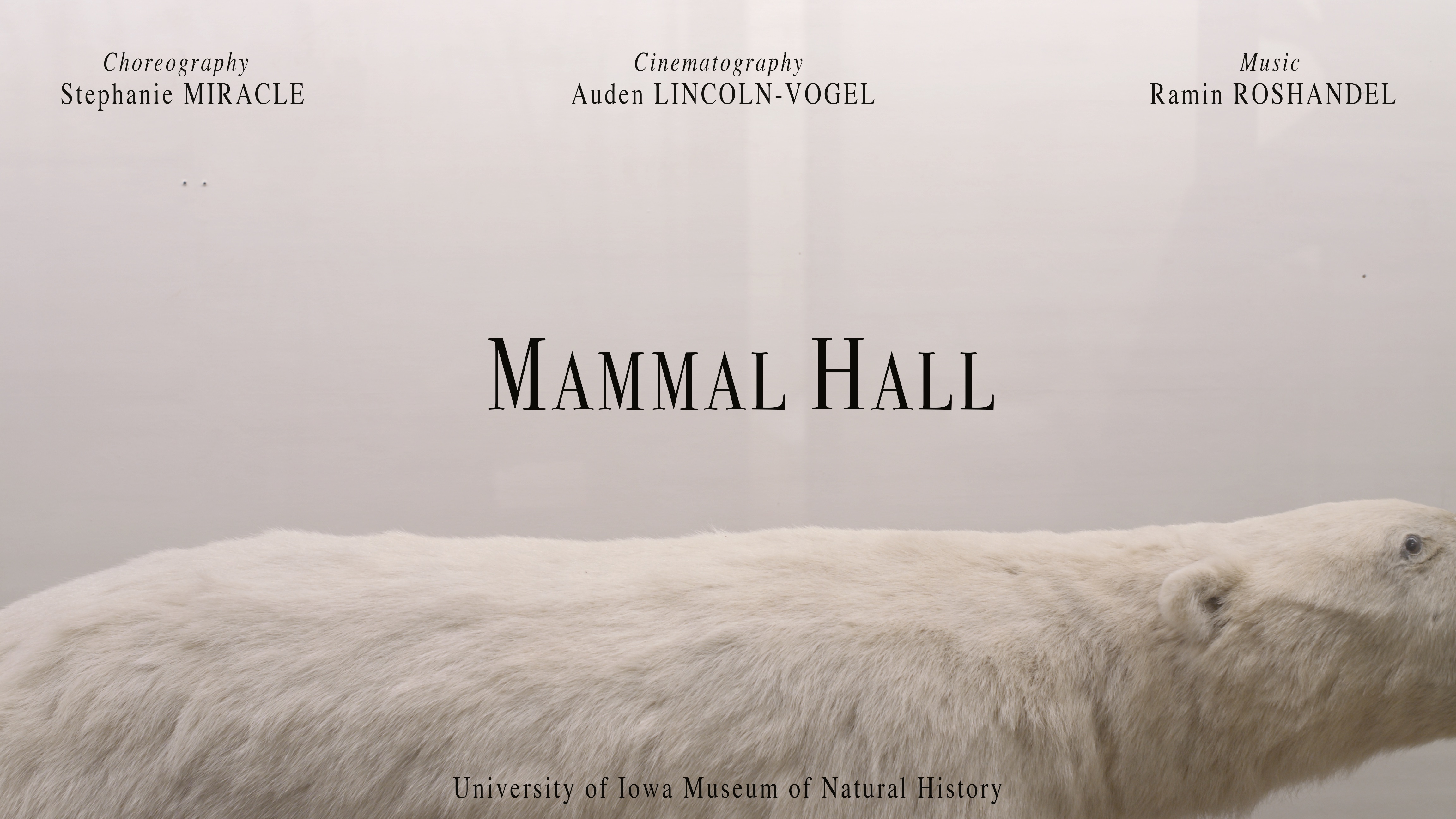 MAMMAL HALL started in the Fall of 2019 as a live site-specific dance work choreographed by Visiting Assistant Professor Stephanie Miracle with University of Iowa Dance Department graduate and undergraduate students. The piece was originally designed to be a wandering adventure for small audiences guided through headsets. Unfortunately, the premiere was cancelled in April 2020 due to the pandemic. However, the original cast reconvened Zoom for several months to transform the dance theater work into an at-home radio play version, which was released in July 2020. The "Mammals in Captivity" audio experience was listened to by national and international audiences. Several dancers from the original production are also featured in the new film, debuting later this month to a live audience.
The Pentacrest Museums are proud to see this phase of the artist's work come to life, "This project has been inspirational in our endless contemplation of what museums can become. To reimagine our spaces through artful expression in movement, music, and film is powerful. The expirimental interaction with historic research specimens in playful spirit is welcome," Pentacrest Museums' Jessica Smith said. "Just before the pandemic-related closure in 2020, our staff gathered to watch a live dance rehearsal in Mammal Hall in preparation for a live show, as this was intended to be. Suddenly we were canceling all programming. The many changes in the artists' format and approach since then, with all that we've been facing together, are a testament to the art, this particular time in history, as well as the creators' adaptability and persistence. We're just as excited as the audience to see, hear, and feel what they've made."
The next phase of this project will be to release an accessible, fully Audio Described version of this short film for those in low-vision or blind communities. Artist Stephanie Miracle shares, "With the support of the Museum of Natural History, we are collaborating with leading Audio Describer Joel Synder and Certified Movement Analysis Esther Geiger to generate this new accessible version of the film. We hope for this to premiere sometime in summer or fall 2022."
The museum strongly encourages event guests to mask and spaciously distribute amongst the main and balcony levels of the Macbride Auditorium, accessible via stairs or elevator on the 2nd or 3rd floors of Macbride Hall. Guests can expect a 16 minute film, followed by a moderated discussion with Auden Lincoln-Vogel (film), Stephanie Miracle (dance), and Ramin Roshandel (music). Audience participation welcome. To learn more and attend, visit the events listing for more information.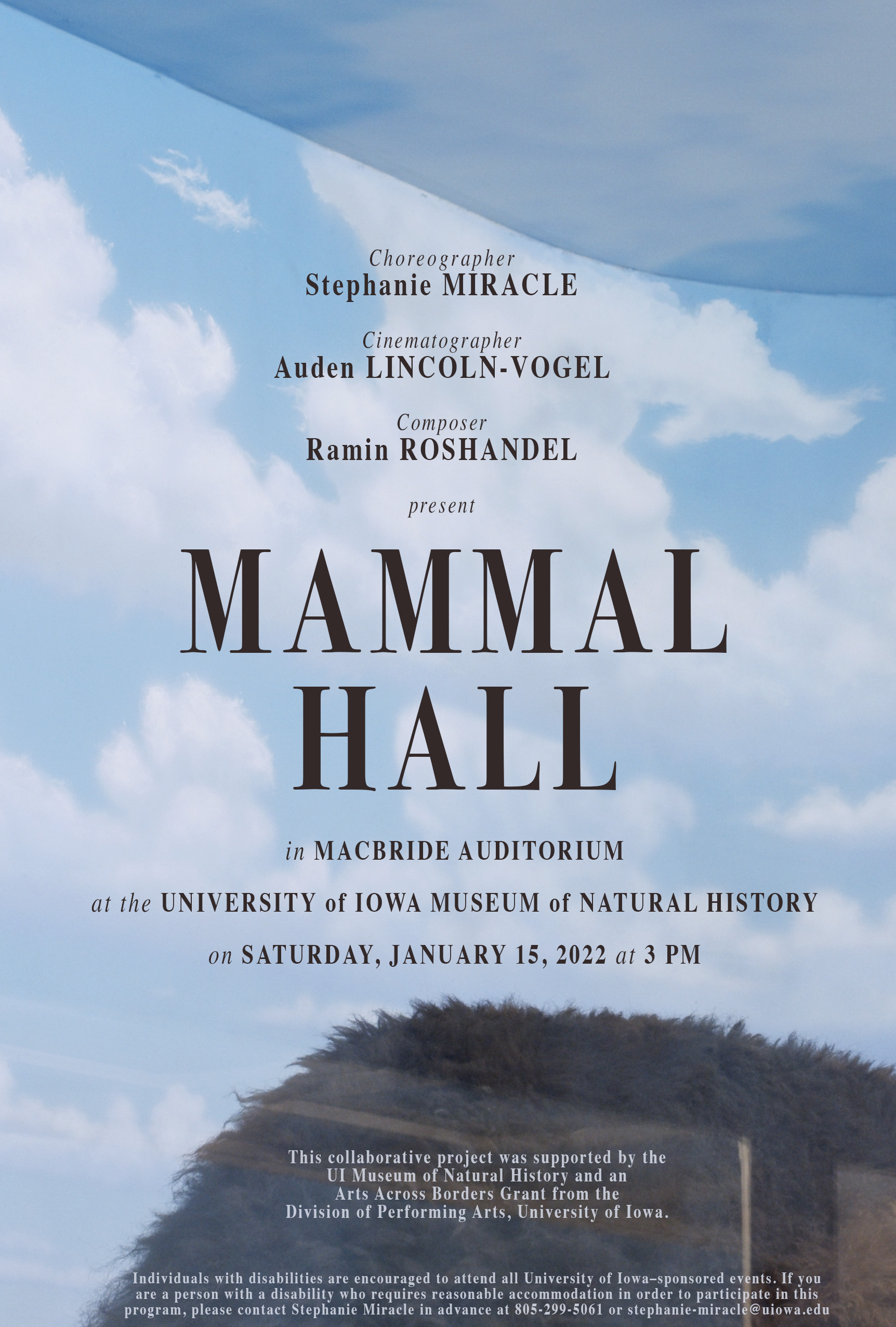 ---
This collaborative project was supported by the UI Museum of Natural History and an Arts Across Borders Grant from the Division of Performing Arts, University of Iowa.