Wednesday, October 13, 2021
The UI Museum of Natural History continued work with students taking part in the Interdisciplinary Evolutionary Sciences Research Experiences for Undergraduates (REU) program, funded by the National Science Foundation, this summer. The Museum's work supports the Broader Impacts component of the student projects with accessible, innovative science communication solutions. This partnership started two years ago with video projects, and after an off-year due to COVID-19, returned in summer 2021 with an entirely new offering: virtual, interactive scientific posters.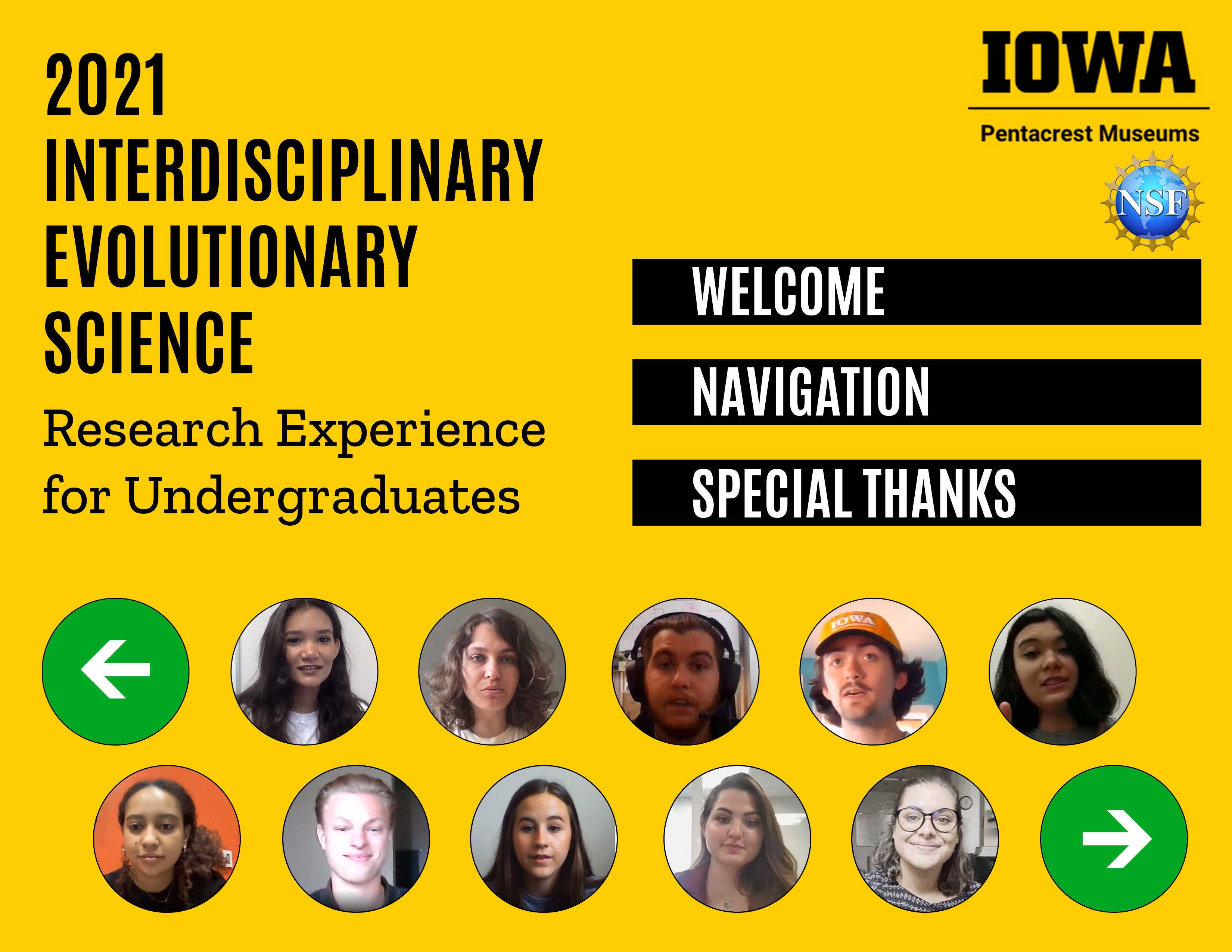 The REU program, organized by Dr. Andrew Forbes of the UI Biology Department and colleagues, invites 10 students from colleges around the US to work with University of Iowa faculty during a 10-week stay. Each student works on a research project with their faculty mentor, and then completes a scientific poster to share their outcomes. Typically, these posters are presented at a formal, in-person poster session, however COVID-19-related safety guidelines prevented such a gathering this year. Enter the Museums and ThingLink. 
The software the Museum explored to convert some exhibitions with great success during the pandemic can translate a variety of projects into engaging visual and auditory experiences for student-centered learning and sharing. "By converting the traditional scientific poster into an interactive exploration session via the web, the scope of our students' work expands in a meaningful way," Pentacrest Museums Communication Coordinator Jessica Smith said.  
"This project is revolutionizing the way science is communicated. We're proud of this innovation as well as the leadership and collaboration shown during the process," Pentacrest Museums Director Liz Crooks said.  
Smith asked students to create selfie-style videos discussing their work and to organize supplemental media materials used as hotspot content for their posters, made under the direction of their mentors. The final product offers viewers far beyond campus the ability to interact with the work, build contextual understanding, humanize researchers, and conjure support for the efforts of various labs. Additionally, the software drastically transforms accessibility not only by means of proximity to the research itself but with audio-visual learning materials that can read text in over 60 languages, along with other supports. 
"I am very pleased with the end result here, which combines the formality of the scientific poster, with the humanity of the young scientists responsible for the work," said Forbes, "In collaboration with the Pentacrest Museums, we hope to refine this approach next summer and start to build a template that other organizations could adopt." Forbes also noted that, because the posters can be shared online, the reach of the student work far exceeds that of a traditional poster. 
The student projects are now available to view online here.
---
Update: The 2022 virtual poster series is also now available to view online here.