An Examination of Presidential Political Buttons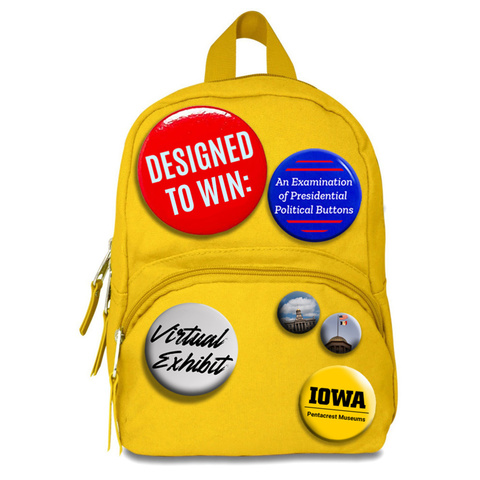 How can one's entire political philosophy fit in a 1-inch diameter space? What can something as small as a pin-back button do to rouse crowds into action, inspire allegiance for national support, or convince someone to oppose a rival? From the collection of J. Patrick White (Iowa alum), this exhibit examines the art and rhetoric of historic presidential campaigns and the buttons that were designed to win them.
Dating back as far as the 1890s, these small but mighty campaign materials were designed to catch the eye, send a loud or subtle message, spark conversation and debate, and persuade fellow citizens to rally behind a belief or value. Ultimately, the political button was an accessible, mobile and affordable way to show political loyalty. This deeper look lets us understand how campaigns and the role of political buttons supported the goal to impact the course of the American presidency and history as we know it.
Through this virtual and interactive exhibit, audiences can reflect on eras in history, the changes on production, materials and design of buttons, what was going on at a particular point in time, and gain insight into the collective consciousness of 19th-20th century America. We'll get up close and personal with some fascinating ephemera that sheds light onto the identity, art, and rhetoric that political buttons have historically played in American elections. We'll gain insight into the American presidency and the campaigns that helped pave the way to The White House.
Debuted Presidents' Day, Monday, February 15, 2021 
---

Associated Educational Programming: